Simplified Binding:
from Super Simple to Refined
Dates | Saturdays |  2 weeks  |   
5 pre-recorded video tutorials with PDF instructions posted each Saturday at 9:00 am ET. Access to a private chat area for questions and comments.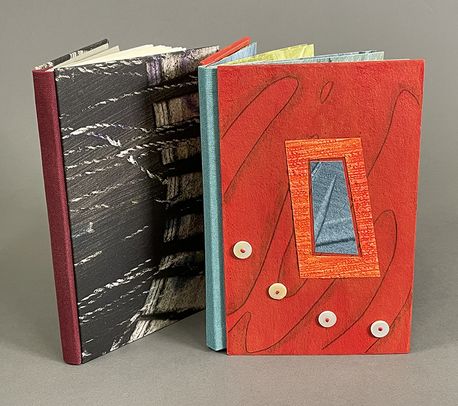 During this stimulating workshop, participants will explore Simplified Binding, an excellent and elegant method of binding slim volumes. The Super Simple version breaks down the construction into the basic steps yet provides an ideal structure for the book artist. In addition, this book will have painted covers to allow for creativity with colors, textures, and embellishments.
The Refined version incorporates advanced techniques that further enrich the overall look of the binding. The text block is sewn with multiple sections over tapes, and its spine is slightly rounded and lined. The cover boards are beveled at the spine edge to fit into the shoulder joint.
Bonnie has precisely filmed and carefully edited the videos to demonstrate the step-by-step instructions for the two different binding styles. Additionally, she has designed comprehensive handouts to complement the lessons.
A kit that accompanies this workshop will be mailed before the first January lesson.
In this course you will:
learn two variations of the binding so that you have bookbinding choices when making additional books

understand how to paste paint directly on the book boards to enliven the design of your books

gain confidence when learning the advanced techniques

learn how to make a paper slipcase for these or any other books

improve your practice by incorporating Bonnie's tricks for successful bookbinding
The fee includes:
4 videos of instruction concentrated into easy-to-follow steps

1 bonus video

supply kit with all the pre-cut materials you need to bind two 6-inch high books

3 handouts, PDF format

dedicated private discussion group where students can connect
The handout information and the videos are the equivalents of a three-day in-person workshop. The demonstrations are filmed with the camera overhead so you can get an excellent view of the action.
Testimonials from Students of Bonnie's Online Classes:
Thanks so much for these workshops. The videos were delivered in sizable portions and clearly presented – a real talent. I appreciate that I could rewatch them as many times as I needed. I also found how the other students had solved problems to be inspiring.
                                         Dr. Cindy Bixler Borgmann
I'm so grateful for your class, Bonnie! You've provided so many ways to learn the content (handouts, visual, and written diagrams, videos), which has made it so much easier. I'm really inspired to experiment. Thank you so much!            
                                                      Marvel Maring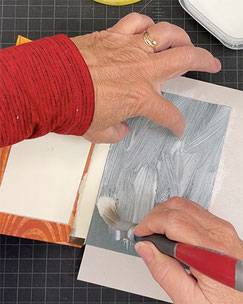 Format of the online course:
Pre-recorded video tutorials and PDF handouts will be posted on Saturday mornings. Once they are released, you can work at your convenience to complete the lesson before moving on to the next book on the following Saturday. During the week, Bonnie will be available to provide advice and answer concerns via the private Facebook group, the discussion link, or directly by email. All discussion choices are optional. 
You will have access to the videos and the private Facebook page for ninety days. The handouts are downloadable and are yours for a lifetime.
Schedule:
Tutorials are posted Saturdays at 9 am ET.
Week 1:  Introduction video
               Book One – Super Simple Version tutorial video
Week 2:  Book Two – Refined Version tutorial videos (part 1 and part 2)
               Making Stuck-on Headbands video
               Paper Slipcase video
Tool and Material list:
The tools needed for this course are the typical ones. They include scissors, bone folder, ruler, triangle, cutting knife, cutting mat, glue and paint brushes, one or two covered bricks for book weights, needles, awls, and a punching cradle. Don't fret if you don't have a cradle; Bonnie will show you how to make an easy one when you sign up.
The students will supply the PVA, acrylic paint, wax and waste paper, and blotters or paper towels.
A detailed list of tool sizes, materials, and vendors will be shared when you register for the course.
Have Questions? Please contact Bonnie.
Class size is limited. Don't delay.
Registrations may not be shared and are non-transferable.
This class is only open to US students.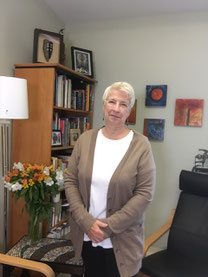 Bonnie Stahlecker
I started my artistic life with the book as the vehicle to carry my creative expression. I now create both artist's books and sculptures.
One of my most vital talents as an instructor is my organizational skills and the ability to share information in easy, understandable steps. I have a passion for art and a considerable amount of knowledge and experience to share. I have honed my skills and knowledge to serve my workshop participants better. For example, in 2000, I took private bookbinding lessons and researched historical book models. Since then, I have adapted the techniques to make my artwork and offer my innovations to others.
 I look forward to sharing my expertise and wisdom with you in my online courses.