Open Access | Four Lessons |  $195
Pre-recorded video tutorials with PDF instructions. Private chat area for questions and comments.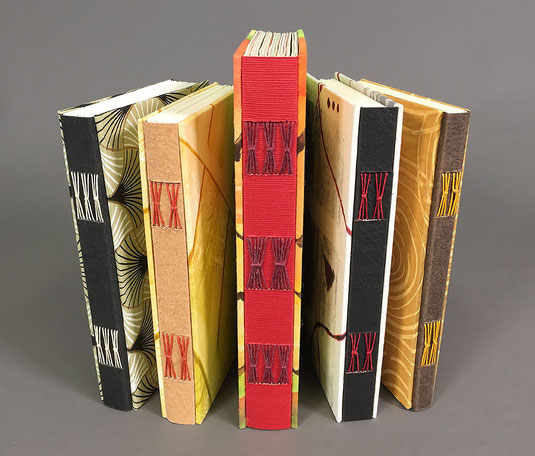 In this workshop, you will create one handsome book with an exposed catch stitch that is functional and decorative. The paper spine-piece operates as the sewing support and conceals the book's spine. Bonnie will demonstrate an innovative way to hide the kettle stitches. Covered boards of decorated paper complete the binding.
The instructor is enabling the students to choose their favorite papers for the pages and the cover—this an excellent time to search through one's paper files and use what is already available. There will be multiple suggestions to guide the selection process. During the workshop, students will learn how to calculate the correct sizes and prepare the materials. All dimensions are in imperial and metric. The workshop model's finished size is 6 x 3 ½ inches [15 x 9 cm].
This course is open to all.
In this course, you will: 
·      gain the confidence to select and prepare the materials so that your book is                         spectacular
·      learn how to sew the catch stitch with a novel way to hide the kettle stitches
·      discover how to cut binder's board by hand with accurate results
·      acquire five additional options to enhance the features beyond the basic binding
·      improve your technique by incorporating Bonnie's tricks for successful bookbinding
The fee includes:
·      2 videos of instruction concentrated into easy-to-follow steps
·      detailed handout with diagrams, PDF format
·      follow-up lessons describing the additional bookbinding options
·      3 extra videos and 3 other handouts with helpful information
·      private discussion area
The demonstrations are filmed with the camera overhead so you can get an excellent view of the action.
Testimonials from Students of My Online Classes:
I was skeptical about taking a class online but was so eager to participate in another class with you that I flung skepticism to the wind . . . thank goodness! It was so well organized, great communication, excellent videos, plus I've really enjoyed the interaction with everybody else who took the class. Thank you!     Kristy Spann
The videos were delivered in sizable portions and clearly presented – a real talent. I appreciate that I could rewatch them as many times as I needed. I also found how the other students had solved problems to be inspiring.     Dr. Cindy Bixler Borgmann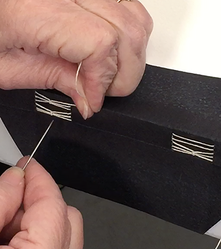 Format of the Open Access course:
The course begins as soon as you enroll. All the lessons with the pre-recorded video tutorials and the PDF handouts are available immediately. You can work at your convenience to complete the lesson. Bonnie will be checking messages in the discussion area to address any questions or comments. You will have access to the two main videos for ninety days. The handouts are downloadable and are yours for a lifetime.
Material List:  
Text Weight Paper  |  Heavyweight Paper  |  Decorative Paper
Binder's Board  |  Linen Thread  |  PVA adhesive
You will not need a lot of the materials since the workshop model book is small. A full list of suggestions for the materials with the sizes and amounts will be provided upon registration.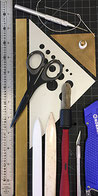 Tool List:
The tools needed for this class are minimal. They include a bone or Teflon folder, scissors, cutting knives, cutting mat, ruler, trimming strip, triangles, needle, awl, glue brush, a book weight, and a punching cradle.  (Bonnie will demonstrate how to make a simple one if you don't have a cradle.) To assist in the bookbinding, you will also need card stock, wax paper, sandpaper, scrap paper, blotters or paper towels.
A detailed list of the tools and vendors will be shared when you register for the course.
Have Questions? Contact Bonnie.
Enrollment is now open.
Registrations may not be shared and are non-transferable.
(Non-US students: the price is in USD and will be converted to your local currency when signing up. There is a $10  surcharge for transaction fees.)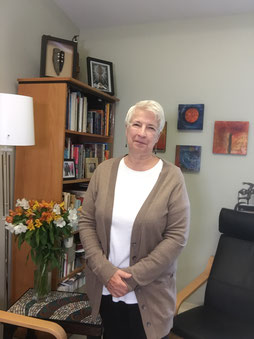 Bonnie Stahlecker
My artistic life began with the book as the vehicle to carry my creative expression. I now create both artist's books and sculptures.
One of the strongest talents I have as an instructor is my organizational skills and the ability to share information in easy, understandable steps. I have a passion for art and a considerable amount of knowledge and experience to share. Over the years, I have honed my skills and knowledge to serve my workshop participants better. In 2000 I took private bookbinding lessons and researched historical book models. Since then, I have adapted the techniques to make my own artwork and offer my innovations to others. I look forward to sharing my expertise and wisdom with you in my online courses.